Most businesses in the United States and worldwide have been facing supply chain disruptions brought on by the pandemic. The Council on Foreign Relations explains why.
After World War II, the growth of international trade led to the creation of supply chains spanning the globe. Companies sought to source materials, components of goods, and finished products from various countries with the lowest labor costs. Because of this, parts and materials used for manufacturing in the U.S. and many finished products sold by retailers in the U.S. are sourced from far-off countries, mostly in Asia. During the pandemic, the production of such parts, materials, and finished goods had to stop for long periods. There were also problems transporting the limited number of parts, materials, and finished goods. This has caused shortages.
Meanwhile, consumer demand via e-commerce has been booming in the pandemic. People were mostly confined at home, so they turned to online purchasing for all their needs. E-shopping also became a means to combat pandemic stress.
Previously, companies were careful to stock up just enough inventory to meet their usual sales or manufacturing needs. This is a more efficient use of resources because capital does not lie stagnant for long in inventories. Reordering and restocking are done just in time to fill the gaps as goods are manufactured or sold. However, the pandemic shortages and high consumer demand have forced companies to change their behavior. They now need to have a large margin in their inventory in anticipation of shortages and delayed deliveries. This is the reason for the current high demand for warehouse space.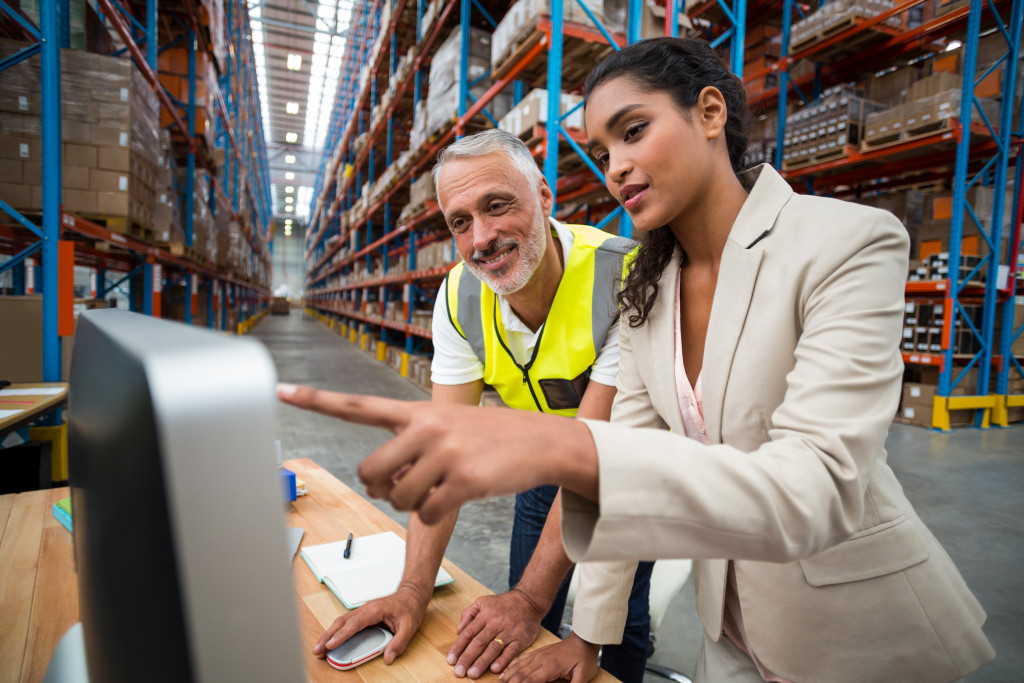 Warehouses Big and Small
ConstructionDive reports that in 2021, the vacancy rate of existing warehouses for rent in the U.S. hit a historic low. With many companies competing to lease space, rent increased at a high-speed rate. The construction of new warehouses ramped up, and the momentum is expected to continue through 2022.
The most desirable areas for warehouses are near airports, ports, and trucking facilities. The areas with the highest demand are large transportation corridors near major cities like New York, Chicago, San Francisco, Miami, Dallas, Houston, and Seattle. The largest percentage growth for the construction of new warehouses is predicted to be in Central Florida; Las Vegas; Phoenix; Salt Lake City; Kansas City; Greenville, South Carolina; and Louisville, Kentucky.
Newly constructed warehouses are larger than the older ones, making the most of land space. In addition to having more square footage, they also have higher ceilings. Previously, average clearances were from 22 feet to 24 feet. These days, warehouses have a clearance of up to 36 feet. Some also have two stories, and parking space has likewise expanded.
Separate from the large warehouses, there has also been a boom in the construction of small warehouses to service last-mile distribution. These mini-sites are near the heart of major cities. Vacant shopping centers or parking lots are being converted into such distribution centers.
Supply Chain Quarterly cites a report from Cushman & Wakefield stating that in 2022, warehouse net absorption will go beyond 200 million square feet for the ninth successive year. Net absorption means the area occupied minus the area that becomes vacant. The report forecasts that this trend will continue in 2023 and the coming years. However, the report predicts that by 2023, the supply of new warehouses will overtake demand.
Automation and Other Technologies
In the usual warehouse, there is a high need for manpower. They handle the forklifts and other equipment used to move product packages around. They use fork protectors to ensure that the products being carried are not marked or punctured.
The pandemic, however, has also resulted in a shortage of manpower. According to ProLogistix, companies have turned to automation and robotics as solutions. It cites a report from eMarketer stating that in 2020, about 34 percent of medium and large warehouse operators in the country used robotics. This is estimated to increase to 42 percent in 2022.
There are various types of robots used in warehouses. They can do the heavy lifting for humans. They can also do repetitive and time-consuming tasks error-free, at a faster pace, and tirelessly. With the use of machine vision, they can pick and sort items. Self-driving vehicles can carry packages from point to point within the warehouse. There are also cobots designed to work safely alongside humans.
In addition to assisting in physical tasks, technology also aids warehouse management. Artificial intelligence (AI) is used in gathering, processing, and analyzing data. This can bring to light inefficiencies and potential problem areas that can then be addressed proactively. A self-managing inventory system can automate the process of tracking shipments, receiving items, putting away items, locating stocks, determining stock levels, and ordering replenishment, among other things. Predictive analytics aids decision-making. For instance, it can predict the volume of orders needed for specific products based on sales history.
There are so-called dark warehouses that do not need human workers. Instead, everything is automated. This does not mean that warehouse operators will no longer need human workers, though. Instead, workers can be trained and upgraded to do other tasks.