The way your office looks can make a difference in your productivity. It can also determine how clients and applicants will view your company. That's why improving it's essential. However, renovating an entire office can be pretty costly. It's estimated that the average office renovation costs around $200 per square foot. So if you have a 150-square-foot office (the median size of offices in the country), you'll need to spend well over $30,000 for a renovation. If you want to save money on your renovation, you'll need to do the most important. One of the most important renovations you need to make is your flooring.
Benefits of Good Flooring
There are various benefits to having suitable flooring in your business. First, it can reduce the amount you spend on cleaning. When you have good flooring, it's easier to clean and maintain. Additionally, it shouldn't get dirty quickly or accumulate dust.
Good flooring can also improve the aesthetic appeal of your office. You'll be able to use various color schemes and different styles with flooring. They're also more durable than carpets, making them less likely to incur damage if used properly. And since you won't need replacement often, that means less money for maintenance in the future!
Lastly, having good flooring can increase productivity. Research suggests that a comfortable environment leads individuals to work faster and better. However, it can be hard to choose the right flooring if you have never encountered flooring material before. Here are some of the best flooring to use in your business.
Carpet 
You could be forgiven for thinking carpet has become slightly old-fashioned. Although specific customers will share this perception, it's important to note how others still enjoy the retro appearance they provide their offices. 
There's nothing more rustic than a comfy carpet laid across your rooms! And away from the luxury they supply, you can expect installation to be cheaper and often far quicker than other flooring options.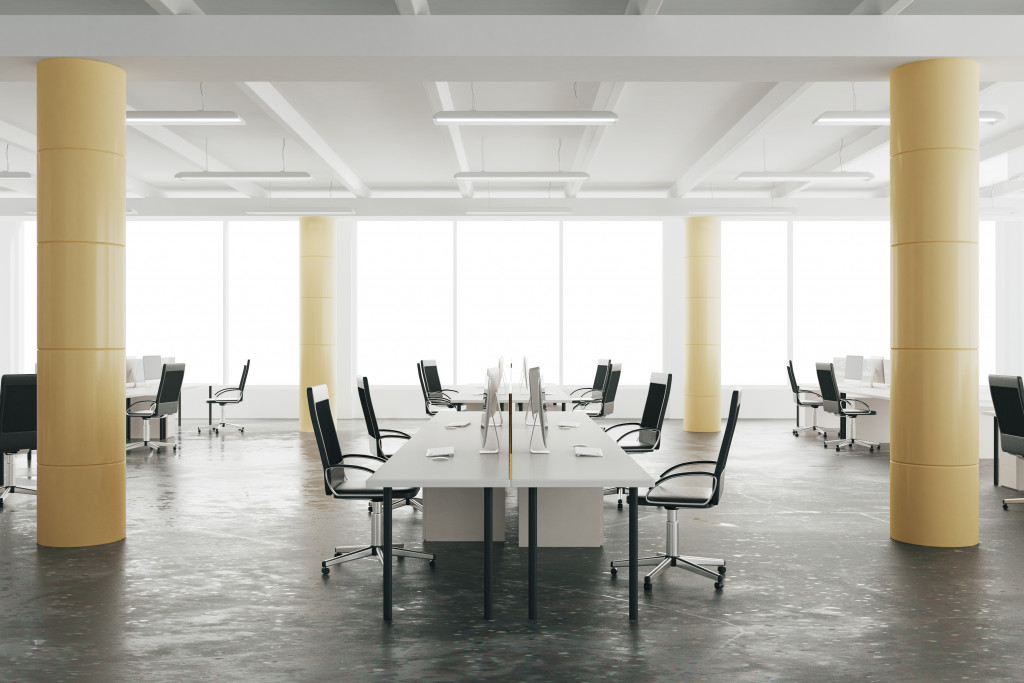 Vinyl 
If you're working with a tight budget but still want the quality appearance of natural wooden flooring, they'll be better suited to vinyl, which replicates the same sophisticated look. 
Maintenance is also straightforward, and in terms of installation, most products come with the increasingly popular interlocking system, allowing tiles to be laid without needing permanent fixing. 
Because of this, adding further modifications later down the line or even fixing areas that may have been hit with moisture build-up is easier. 
Tile 
Another staple in the world of flooring would be good old tiles, which in the present day, still offer customers tons of excellent benefits. 
These are eco-friendly, easy to maintain, and often adopt very distinctive styling, which helps elevate your home into a space filled with real purpose and character. But perhaps the main advantage would be its water resistance, which is an essential feature for lively offices containing pipes and numerous employees.
Underfloor Heating 
Your office must keep in line with the latest innovation. Otherwise, customers will likely look elsewhere. With this in mind, anything like underfloor heating, which helps reduce energy bills, should become a part of your office if you have enough budget. 
So, how does this work? Well, unlike radiators and how the heat being generated is very much concentrated into one area, you'll benefit from more consistent bursts of warm temperatures across rooms, therefore less need for this to be switched on to have the desired effect. However, this requires experienced workers to install it. You should hire a professional flooring company to install underfloor heating in your business. They should be able to use the proper wiring and placement to achieve the best results. 
Engineered Wood Flooring 
Like vinyl, this is another excellent alternative for customers working with tight budgets and still longing for a quality finish for their homes. 
Engineered wood flooring is exceptionally durable, and refinishing can be done with minimal commotion, offering you excellent long-term solutions. Of course, you'll also find ample options, so expect to find the perfect tones that suit your home décor. 
Hardwood
Lastly, there's hardwood. For good reasons, this particular material has grown into a massive trend in the last few years.
It's one of the most beautiful materials on the market. The fact that it can be polished to perfection along with simple maintenance elements means you're likely to create a real statement piece with hardwood flooring. The only downside would be that installation can take longer and cost a little more. However, as long as you research your options, hiring the right company to do the job should work perfectly.
Overall, many different types of flooring are available for businesses today, each with its advantages. As a business owner, it's crucial to find the suitable material that suits your needs and budget to create the professional and successful office of your dreams!